By Zaqqiyah Haamidah
Minister Omar Hassan discussed a letter about reparations for slavery sent by the Chief Executive Officer of the Lost-Found Nation of Islam, Mr. Silis Muhammad, to U.S. President Barack Obama during a radio interview on KPFT 90.1 on Sunday, April 13. Read the "Blueprint" here.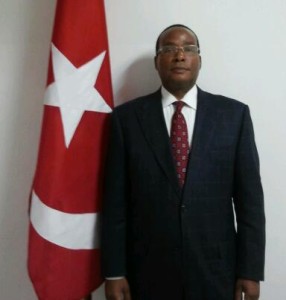 Minister Omar Hassan, Ambassador-At-Large of the Afrodescendant Nation, gave listeners a background understanding of the letter's demands and explained other reparations initiatives while being interviewed on Dr. Obadike Kamau's show, "Self Determination",  which can be heard by visiting this link: http://kpft.org/player.php .
To advance the work described in the interview, signatures were encouraged for a Reparations Petitions. Afrodescendants may walk in to any Muhammad's Mosques in their city to sign a Reparations Petition, which will be used to gain full Afrodescendant human rights recognition of  and advances the work to claim reparations for slavery.
Black, "African American", Afrodescendants unable to go in person to sign a Reparations Petition may sign online at:  http://chn.ge/1i3IPsL . The goal of the petition drive is to gather 50,000 signatures in support of reparations for Afrodescendants.
As "minorities" in the western hemisphere, Black, "African American", Afrodescendants have yet to enjoy full equality under the law due to the total destruction of identity during plantation slavery–which was the loss of this nation of people's identity internationally.
The Lost-Found Nation of Islam is a nonprofit organization that works to claim 100% freedom, justice, and equality for Black, "African American", Afrodescendant peoples throughout the Americas. The Afrodescendant Nation is a non-territorially based sovereign governing body of, by, and for Afrodescendants constituted on May 26, 2011.

You can learn more about the "Blueprint" and what must be done now to save the Black Family by clicking here.